As soon as we hear the name of doodle, our mind starts thinking of something that is made for fun — without any type or style.

What do you think? Are doodles just made for fun? And it doesn't follow any style.

Nope, doodles can be made for lots of reasons, it follows styles & each style has its own meaning — they look different from each other.
But whenever you think of making doodles, you get confused about the styles & which style you should follow in order to reap maximum benefit out of it.

After all, what's the difference between each one of them. Don't worry? This post is all for you, Just scroll through the post & clear all the confusion about it.
There are numerous doodles styles that you can follow, each style has a purpose — all of them differ in some way. Naturally, different styles nurture different artistic skills of an artist.
Some help you boost your imagination others work as an outlet for thoughts. As you will look into the styles, you'll get to know the benefits they can offer and that'll help you further shape your choice.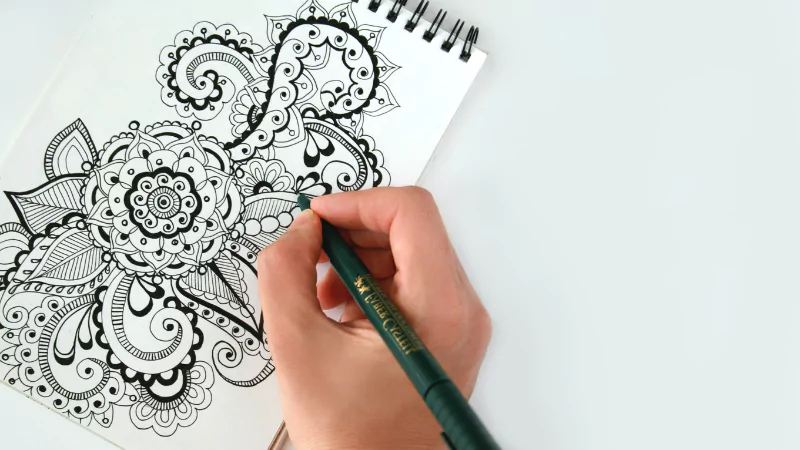 Let's know some of the incredible doodling styles that will help you grow positively.
1. Bullet Journal Doodles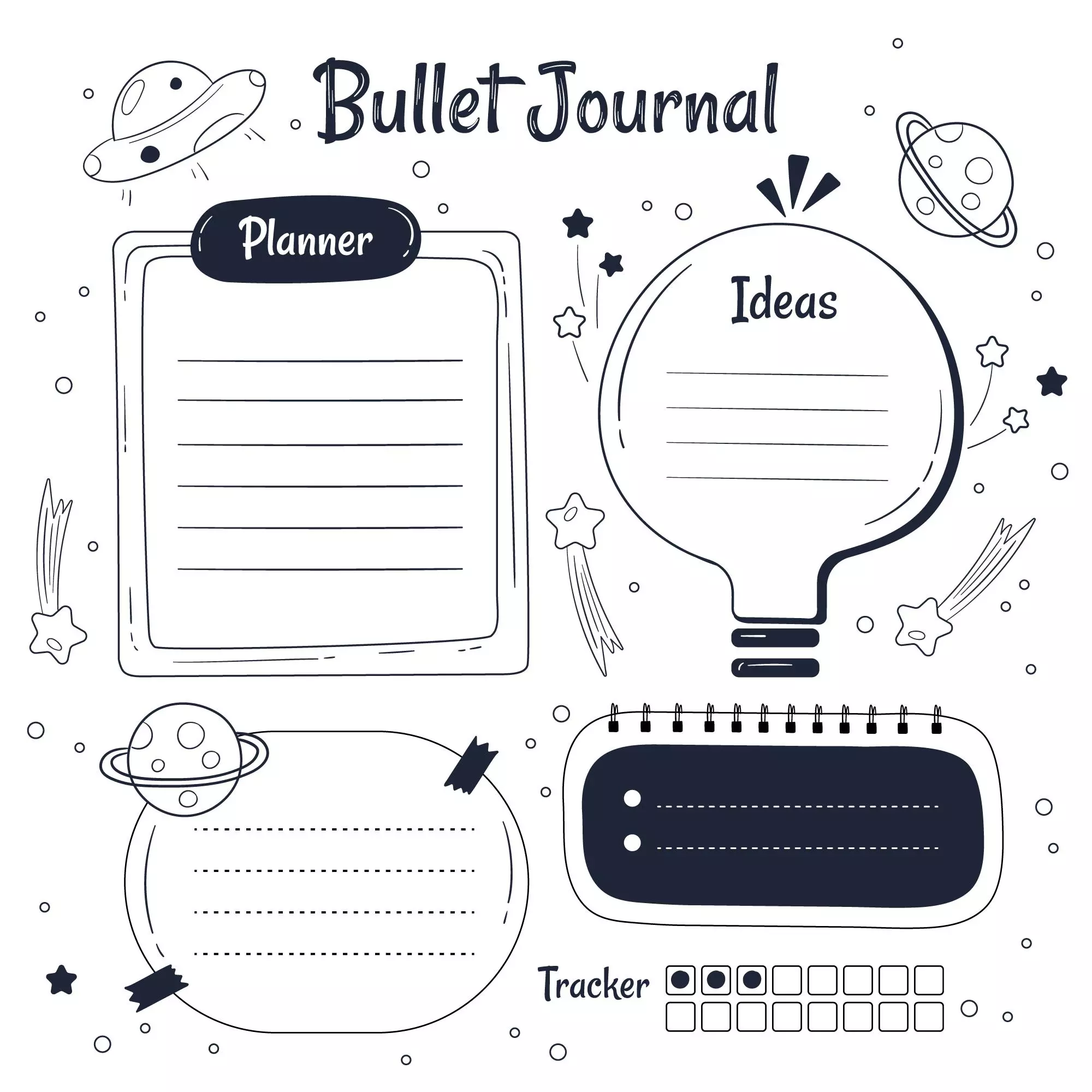 Bullet Journal Doodle is one of the best doodle art styles for kids & newbies, it gives them the opportunity to flex their creativity.
If you want to draw freely then this style is great for you. Not just freedom, you can try this doodle art style for fun — while getting bored you can make use of it.
From decorating your journal to increasing your productivity, it can help you everywhere. I personally like this style because it helps me organize things & chill while practicing.
2. Botanical doodling
Also known as line drawing, the botanical doodles are single-line shapes or designs without any details. Botanical doodles use flowers, leaves, stems, & other plants stuff to create designs & patterns.
These doodles are mostly used for decorating postcards, tattoos, sketches, invitation cards & the background of pictures. Plus, it's drawn using single color & usually made with a black pen.
3. Zentangles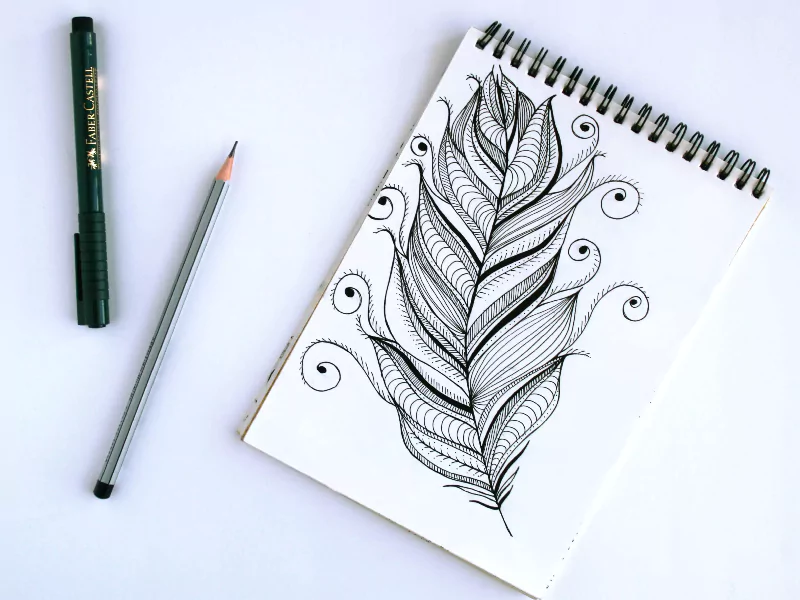 Zentangles are structured & repeated patterns. They are abstract in nature, means they don't represent people or any objects.

This is an American method of drawing known to be invented by Rick Roberts and Maria Thomas. Zentangles are made under a confined boundary & with mindfulness – unlike normal doodles which require no attention.

In the USA, zentangles is used as a therapy for stressed patients to get into a state of relaxation. Generally, zentangle patterns are black-white in color, made with a pen or markers.

It has varieties of patterns such as Linked, MSST, punch, puf, opus, pane, rain, paradox & many more. So, you have many patterns to play & experiment with.
4. Mandalas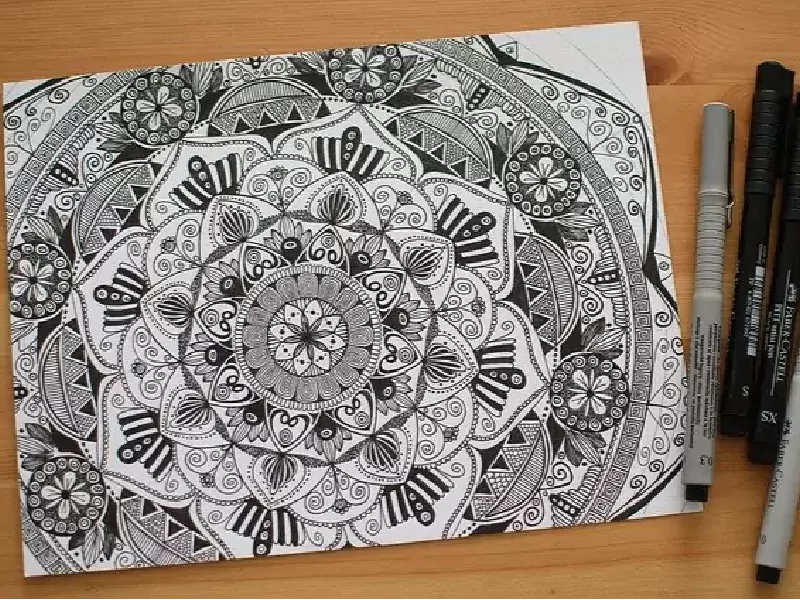 Shaped like a circle, this style has rounded and repetitive patterns. Different geometric shapes are made inside the circular shape to create mandalas.

Every pattern in a mandala is created with intention & focus. In the mandala, you can't make random shapes & lines. It follows its own way of designs & shapes.
Some of its designs are petals, arcs, pointed petals, drop petals, triangles & many more. Using ball these patterns, you can make mandalas doodle.
Mandalas are usually created from the center part of the grid & then, goes apart. It uses different colors which have meaning to it.

Here's a table representing the meaning of colors that are used in Mandalas.
| COLOR | MEANING IT EVOKES |
| --- | --- |
| Red | Strength, power, and passion |
| Orange | Security, joy, creativity, and courage |
| Yellow | Humility, wisdom, learning, happiness & laughter |
| Green | Love of nature, caring, physical healing |
| Blue | Blue – Purity, life, infinity, and healing |
| Black | Deep thinking, mystery, darkness, and death |
| White | Rest, Spiritual focus, and contemplation |
5. Stendoodling
Stendoodling is a style of Doodle art where the individual doodle patterns are created inside an outline.
Stendoodles are made using a stencil (A stencil is an art tool in which patterns or designs are cut out to print designs by passing colors through it.)
Michael Trent, a Brazilian artist is the inventor of stendoodling. He got this amazing idea of creating doodles with stencils.

This style is unique from all the other doodle styles, without much effort anyone can create awesome designs by using stencils.
FAQ
1. Is doodling & Mandala the same?
No, doodling and Mandala are not the same because doodle is not created with much meaning & doesn't follow a fixed design & patterns. Doodle is made using random lines & shapes. But in the case of the Mandala, it is always made with purpose & intention & it has spiritual symbolic shapes. And, it uses repeated & circular patterns.
2. Is doodling an art?
Some people say doodling is only made for fun. No, it's the wrong way of perceiving it. Everything that is created by hand & involves creativity is art. From this perspective, you can say the doodle is definitely an art.
3. Can doodling be monetized?
Of course, doodling gives you the opportunity to earn money. There are many famous doodle artist who earns millions of $ just selling their doodle art.