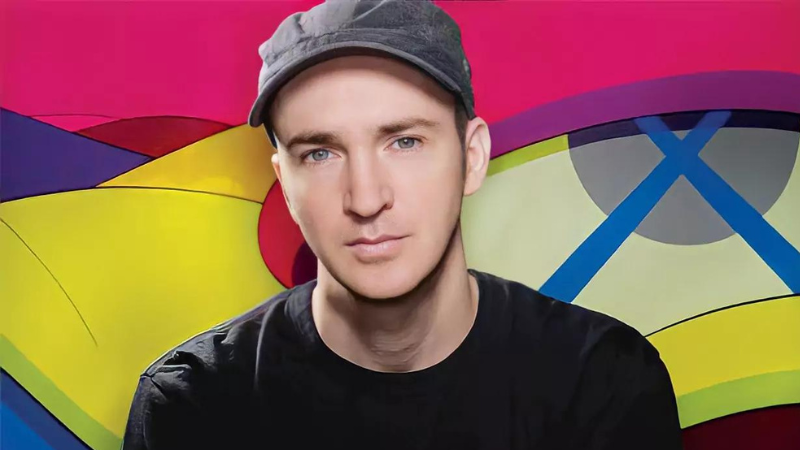 Credit: BELIEF
Brian Donnelly, better known as Kaws, is an American artist, sculptor, and designer. He was born on November 4 1974, in Jersey City, New Jersey. Now, his age is 47. He is famous for his toys, figurines, and fictional character.
Kaws started his art career as a graffiti artist in the 1990s; he earned his bachelor's and master's degree from the School of Visual Arts in New York City in 1996. After completing college, he worked as a freelance animator for Disney, where he made 3D/4D painting backgrounds for animated movies such as Doug, Daria, and 101 Dalmatians.
After returning from New York City, he started to work on subverting bus shelters, billboards, and phone booth advertisements. Soon he became popular, and his popularity reached heights he never expected.
KAWS began to design edition vinyl toys in the 1990s. These toys quickly became hit in the toy industry. He also reworked many well-known TV cartoon characters like Mickey Mouse, The Simpsons, SquarePants, the Michelin Man, the Smurfs, and SpongeBob.
He also worked with a group of individual artists like singers, musicians, dancers, and rappers. He joined the entertainment industry in the 2000s.
Kaws recently designed toys and clothing for famous companies including Kung Faus, Vans, Original Fake, Nike, A Bathing Ape, and, Comme des Garcons and Undercover.
In his recent interviews, Kaws revealed the collection of various types of art taken from the same artists. These artists are George Condo, Alex Katz, Raymond Pettibon, and Mike Kelley.
Also, traditional artists such as Claes Oldenburg, Chuck Close, and Gerhard Richter have a great impact on his works.
KAWS famous paintings and sculptures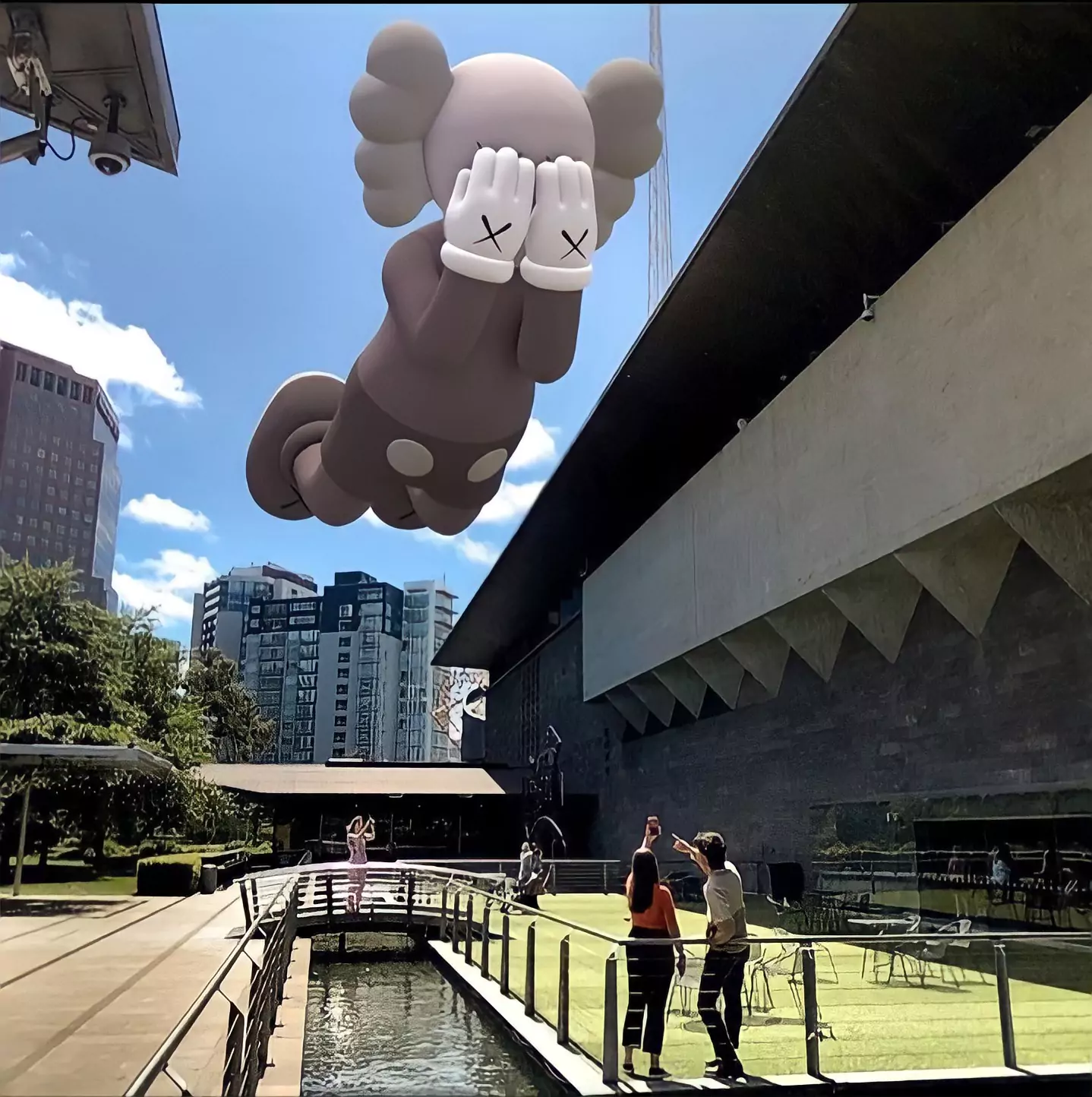 His art is mostly influenced by pop culture. Untitled (Kimpsons #1), The Walk Home, In the Woods, and Armed Away are some of his famous acrylic paintings. The Companion (Mickey Mouse) is his most popular sculpture series, which portrays the twisted Mickey mouse with X-ed eyes in black, grey, and brown color. The most expensive work, "The KAWS Album", sold for 14.8 million dollars in April 2019.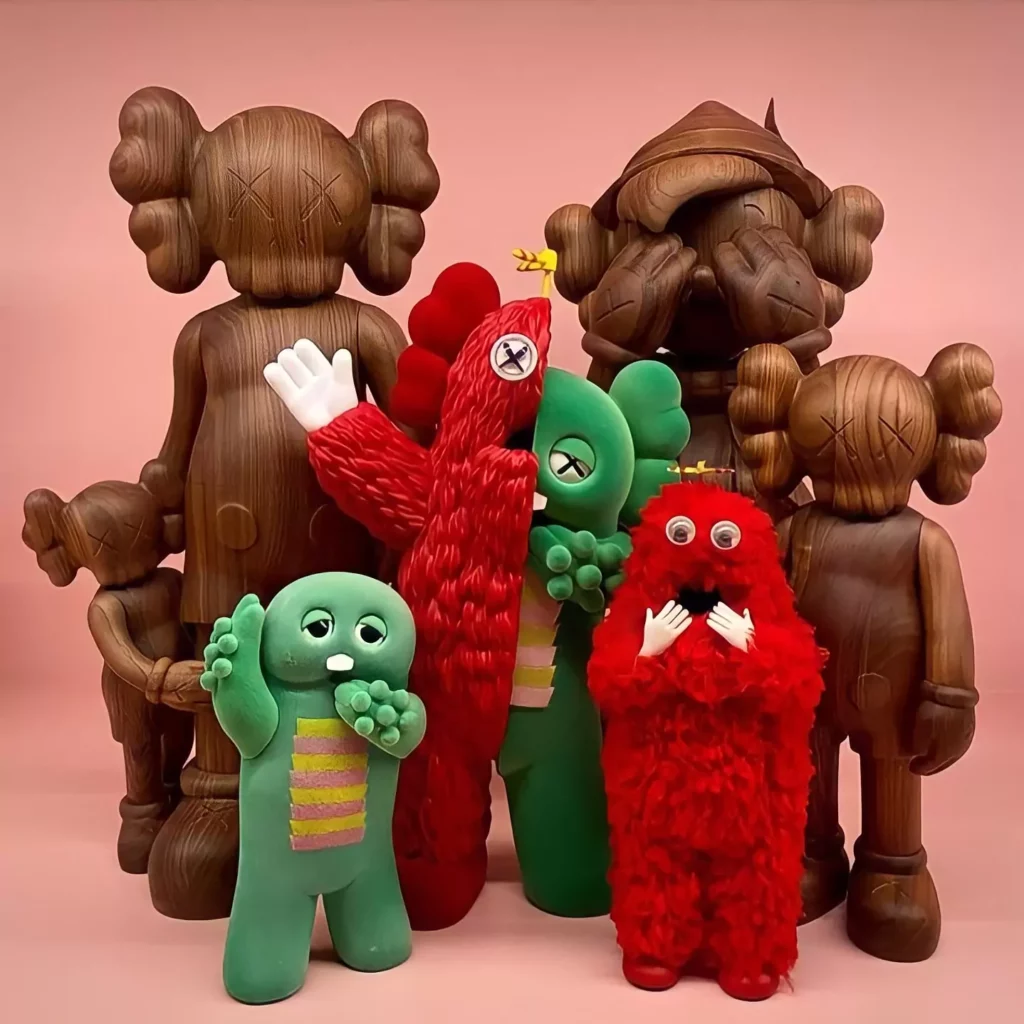 Kaws participated in many solo exhibitions with different international galleries and museums, including Modern Art Museum, High Museum of Art, the Pennsylvania Academy of Fine Arts, Honor Fraser Gallery, and Galerie Perrotin. He launched his first one-person-show in London.
Modern Art Museum of Fort Worth, Museum of Contemporary Art San Diego, One Campus Martius and Brooklyn Museum these museums hold the majority of his works.
He uses different materials such as aluminum, steel pontoon inflatable raft, rubber, wood, fiberglass, and bronze to make his artworks. His toy's height ranges from 20cm to 10 meters.
Today, Kaws is one of the most well-known contemporary artists. He boasts 4.2 million followers on Instagram. And his work fetches millions of dollars at the auction house.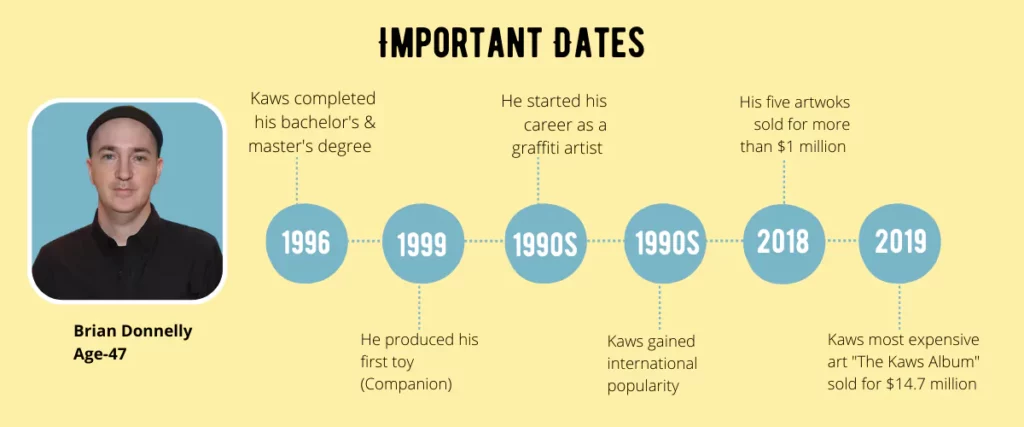 As far as my opinion on galleries, I think they are a great thing. I see them as another outlet. I'm sure by now you've figured out that I do my work for everybody to see. That's the whole point.

KAWS
| | |
| --- | --- |
| Name | Brian Donnelly (Kaws) |
| Birth | 4 November, 1974, Jersey City, New Jersey |
| Famous artworks | Companion and The KAWS Album |
| Net worth | $20 million (Unconfirmed) |
| Wife | Julia Chiang |
1. Why is KAWS so famous?
Kaws is an American modern artist who made his name in the art industry by designing his limited edition toys and clothing.
2. How much expensive are KAWS arts?
KAWS art price ranges from $1000 to $1 million. In 2019, The KAWS Album was his most expensive artwork, sold for around 14 million dollars.
3. Which are the rarest KAWS figure?
Passing Through, Astro Boy Companion, Karimoku Companion, Boba Fett Companion, and No Future Companion is the rarest Kawa figure.
4. Why is KAWS art so expensive?
Kaws' art is very expensive because the demand for his toys is extremely high in the market, and people are willing to pay even millions for his works.
5. How to know my KAWS is real?
To check if your Kaws is real, you need to consider doing a few things mentioned below
Check for KAWS big signature
Look for the numbering
Inspect if it has broken lines
Check the density of your Sculpture
6. How old is KAWS?
Brian Donnelly is 47-year-old contemporary artist who professionally known as Kaws. He was born on 4 November 1974 in Jersey City, New Jersey.
7. What type of art does KAWS makes?
Kaws makes different types of art such as acrylic paintings on canvas, wood and rubber sculptures, screen prints, graphic design, graffiti and also limited edition toys.