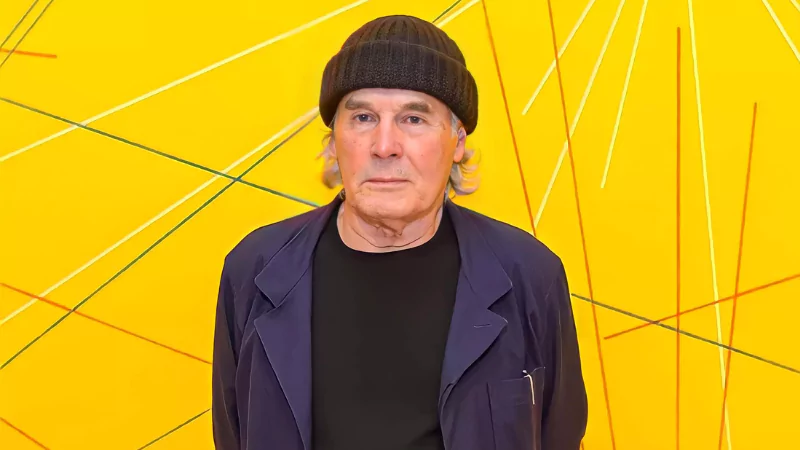 Credit: Widewalls
Brice Marden is a 83-year-old American artist. He was born on 15 October 1938 in Bronxville, New York. He is widely known for his linear abstractions and monochrome painting style.
Brice began his art career in the 1960s; he completed his bachelor's degree from the Boston University College of Fine Arts in 1961 and received his master's degree from the Yale School of Art in 1963.
At the beginning of his art career, he was inspired by the great American artist Jasper John's work & used to feel a connection with his art.
In the 1960s and 1970s, he worked on monochrome canvases in either series of panels or single panels.
These are his 1960s to 1970s paintings — The Dylan painting, Fave, and Lethykos, which are kept in the Museum of Modern Art & University of Texas at Austin.
In 1964, Brice produced his first monochromatic single-panel art.
He gained international fame as the master of the monochrome panel. After gaining fame, he bought his first home in 1973.
In 1977, he traveled to Rome and Pompeii, where his interest in Roman and Greek art emerged.
When he lived in Hydra, he created a total of thirty-one artworks on marble.
Brice Marden has participated in hundreds of group exhibitions and has done many solo shows. His first one-person show was held in 1966 at the Bykert Gallery in New York.
In 1972, his artworks were exhibited at Documenta 5 in Kassel, and in 1975, his first museum show was held in New York's Solomon R. Guggenheim Museum.
In the 1980s, Brice & his family traveled to some parts of Asian countries, including Sri Lanka, India, and Thailand. The visit brought up his interest in Asian art & culture.
Later, he incorporated many elements of the Asian traditions into his work, making them a key to his process (Shell Drawing, 1985–87).
Marden became a member of the American Academy of Arts and Letters in late 1988. And in 2000, he was awarded the honorary degree of Doctor of Fine Arts.
Cold Mountain series, The Dylan Painting, The sisters & The Propitious Garden of Plane Image are some of his notable artworks. The popular "Complements" painting is the most expensive painting by him, which sold for 30.9 million dollars in 2019.
Net worth of Brice Marden
Brice Marden is one of the wealthiest painters in the world. He is listed as a grand old master artist of the 21st century. He is among the highest-paid artists whose paintings are worth millions of dollars. According to alux.com, his net worth is around $500 million (Unconfirmed).
| | |
| --- | --- |
| Name | Brice Marden |
| Birth | 15 October, 1938, Bronxville, New York |
| Famous artworks | The Dylan Painting, The sisters & The Propitious Garden of Plane Image |
| Net worth | $500 million (Unconfirmed) |
| Awards | Member, American Academy of Arts and Letters |
| Wife | Marden's First wife is Pauline Baez, and his second wife is Helen Marden |
The possibilities of thought training are infinite, its consequences eternal, and yet few take the pains to direct their thinking into channels that will do them good, but instead leave all to chance.

Brice Marden
FAQ
1. Where is Brice Marden from?
Brice Marden is a contemporary artist who was born in Bronxville village in Westchester County, New York. Now, he lives in New York City, United States.
2. What is Brice Marden known for?
Brice Marden is an American artist. He is well known for his Minimalist art style and gestural colorful line drawings.
3. What media does Brice Marden use?
Brice experiments with different art mediums, including canvas, etchings, and marbles.
4. Who represents Brice Marden?
The The Gagosian Gallery (the world's biggest art gallery) has represented Brice Marden since 2017. (the world's biggest art gallery) has represented Brice Marden since 2017.
5. Who influenced Brice Marden?
 Jasper Johns and Robert Rauschenberg influenced Marden in 1963 when he moved to New York after art school.
6. How old is Brice Marden?
Marden is a 83 years old contemporary artist who works on simplistic gestural line paintings on a large scale.
Read More