If you're searching for creative aesthetic drawing ideas, then you have landed on the right post. In this post, we have shared 31 creative ideas to make aesthetic drawings that can help you polish your drawing skills.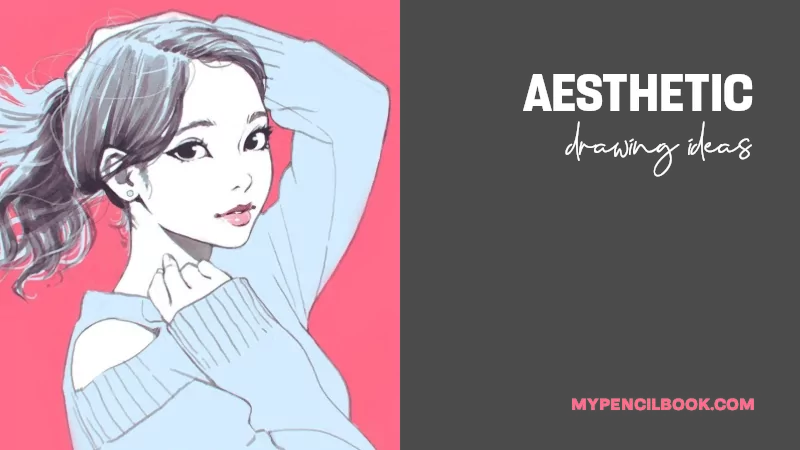 1. Draw aesthetic Grunge eyes drawing.
2. Draw isometric building:- Take a picture of building's & draw it in 2D form.
Do you know what is isometric art? Isometric art is 2-dimensional art in which a 3D object is represented in 2D form.
3. Draw an aesthetic girl with the pencil using the hatching technique.
4. Make a face of a moon queen:- Draw a girl's front face and a waxing crescent moon on the middle of her 'root' forehead, & make Kelvin-Helmholtz clouds (wavey clouds) on her nose & cheeks.
5. Draw your face in grunge style.
6. Draw the big clouds & below it draw small stars.
7. You can make an aesthetic tattoo on your hand.
8. Make waxing crescent moon with rose & little star.
9. Make confused drawing:- Draw a human body & make a scribble in its head.
10. Draw the galaxy in a glass jar.
11. Draw simple mountains, moon & stars inside the circle in one line art.
12. You can try to make different animals with tree shapes.
13. Draw a bird-tree:- Draw a tree with a bird shape.
14. Make aesthetic doodles:- You can draw a mini-mountain in the circle & over the mountain draw a little hot-air balloon, outside the circle draw tiny clouds, stars, & waxing crescent moon. Now your mountain-view doodle is ready.
15. Try to make an aesthetic house.
16. Draw an aesthetic picture of glasses with city-view on sunset.
17. Draw cotton candy clouds, & try to make clouds ice cream.
18. Draw your face in a broken mirror.
19. Draw a hand and over it make fairy lights in a jar. Then make many small stars coming out of the jar and spreading above it. In the last draw a waxing crescent moon in the middle of the stars.
20. Draw a moon on the hand.
21. You can make the blur drawing of the cityscape, using oil pastels – it will look amazing in your sketchbook.
22. Draw street drawing using a one-point perspective.
23. Draw a butterfly, & make beautiful flowers & leaves on its half wings. Next, decorate it's another wing with some tiny circles & calendula flower's petal – it will look amazing.
24. Draw an aesthetic heart on black paper, using a white charcoal pencil or white gelly roll pens.
25. Try to practice, make one line portrait drawing without lifting a pencil.
26. Make aesthetic face drawing in abstract style.
27. Make a different picture of doodle such as – spaceship, planets, faces, flower pots & more.
28. Draw the aesthetic diamond doodle.
29. Draw cracked bulb & make sunflower inside the bulb.
30. Draw minimalistic aesthetic line art. Do you know what is Minimalist art ? Minimalist art which is also known as minimalism is the extreme shape of abstract art – that is depicted in simplistic form & hard edges.
31. Make cute aesthetic fish drawing in a plastic bag.
---
All these aesthetic drawing ideas you have seen above are great works of artists, I have collected these drawings to help you get references and ideas for your drawings.
If you are a beginner or an advanced artist, you can take help from this. If you find an artwork lovely and interesting make sure to check out the artist and encourage them to keep doing their good work
You can also check this post on " 17 Amazing Aesthetic Drawing Ideas "
Keep Drawing!