Credit: News18
You must have heard about many famous paintings that are known because of their styles, techniques & creators.
But have you ever heard of such a painting that was cursed and claimed to ruin the lives of hundreds?
In the United Kingdom, there is a popular painting "The crying boy". It is believed to be the cause of several house fires.
The artwork features an innocent small child with tears falling from his eyes.
It is possible that the artist must have come up with the idea of ​​drawing the picture of a child crying for food or water.
It is believed that whoever hangs a painting of a crying child in their house, destruction always comes to them.
Not only this, it is also said that the piece of art has taken thousands of lives. No one knows when it was made, but some say that when it first came in the market, it sold more than 50000 copies.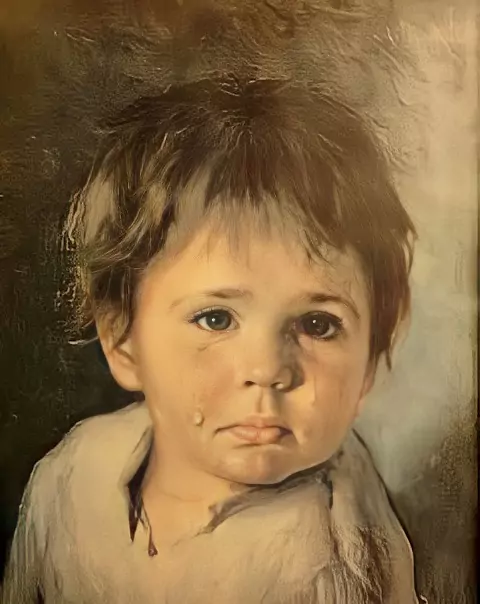 According to some sources, the art was created by Giovanni Bragolin (an Italian painter). However, the report suggests there's no such artist in Italy.
Also, other claim about the painting is that it was produced by French painter Bruno Amedeo.
History of the art
A firefighter claimed that when he along with his team went to douse the fire in 15 houses, they found copies of the crying boy there and also they said that everything in the house was burnt, but this painting was found safe each time.
Once the story of the cursed painting of the weeping boy spread like wildfire, it was no more bought by anyone. The painting began to be considered cursed, people stopped keeping this painting in their homes.
Those who bought these paintings and decorated the walls of their homes, their lives were ruined, they started losing their relatives & death occurred in the family & among dear ones.
Later, at the behest of a newspaper, hundreds of copies of this painting were burnt in the bone fire of the Halloween festival.
After this, the accidents also started decreasing due to which people assumed that the painting was indeed cursed.
Now another rumor has come ahead too, the studio where the painting was made also caught fire.
Read More