Are you looking for some art hacks that will help you make awesome paintings? There are some cool and simple art hacks that can help you with your paintings.

Even those who don't know how to make paintings can also create paintings that will rock.
Let's get into the list of art hacks that will help you save time and create cool artworks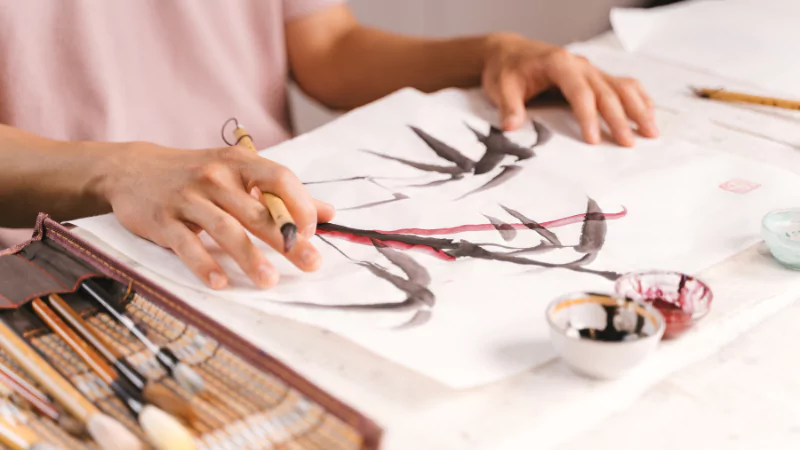 1. Sponge Hack
Sponge hack is great for making trees, foliage & clouds. You have seen many artists use sponges to paint bushes, water waves & clouds. You can't even think, this hack can make the process of your painting a hell lot easier.

Take a piece of sponge then dip it into paint & use it to tap onto the paper. Now make your favorite, butterfly, flowers & trees with it.
Note – Remember to dip the sponge lightly in the paint & gently apply it to the paper.
2. Bonus Magic Eraser
Removing watercolor mistakes can be easily done by using this bonus magic eraser.

To make the eraser cut the small piece of sponge. Put it into watercolor & squash out the extra water from it. Now it's ready to be used as a watercolor cleaner.

Make sure to use the sponge lightly as well as clean it with fresh water frequently to remove its color. Not only clean your paintings, with the sponge eraser you can create designs on painted paper.

Cut the shape or design on thick paper & put it on the painted paper. Now remove the paint inside the cut-out to get the beautiful design.
3. Binder Clip Hack
Using this hack you can even make artworks outside – on windy days by clipping your sketchbook or painting to the easel.
A Binder clip is very handy — it's used in different types of work. While painting outside, make use of binder clips to fix your painting on the easel & continue your work.
4. Straw Hack
If you are a novice at art this hack would be very useful for you. You can create circular designs or flowers with it.
Take a straw & cut its one end. Spread it all around with fingers. Now you can dip the spreaded part in the paint & apply it clockwise or anticlockwise on the paper.
5. Fixing Warped Paper
Do you also bother about the wrinkled watercolor painting then, don't worry this hack is especially for you.

Let's fix your watercolor painting with this hacks. Put the painting on the table by turning it back.
Cover it up with a towel or small cloth for its protection & then iron it for a few minutes by putting little pressure on it.
After removing the cloth you will find that the paper got flattened.
6. Soap Hack
Using this hack you can easily remove paint from brushes & increase its self-life.

Soak the brush in water, squeeze out the extra water from it. Take a soap bar & rub the brush is bristle from all the sides.

Rubbing against the soap will add a layer to the brush that will protect it from paint or masking fluid.
7. Photo Tracing Hack
This is an amazing hack that artists can use to make their portraits & landscape drawings with accurate. Let's see how to use this hack in your drawings.
First convert the picture you want to make into simple shapes, then draw the simplified structure in your sketchbook.

Now add the details inside the shape. Adding details inside a defined boundary limits the chances of mistakes & makes your process of drawing ten times easier.

Note – For simplifying, ignore the details in the reference. You can convert your image by using apps such as sketchbook & pixart.
With this, we come to the end of the article. I hope these will help you with your art. Make sure to share it with your friends if you find it useful.
See Webstory On: 7 Miraculous Health Benefits of Drawing & Paintings
FAQs
Do hacks help in your art?

Yes, hacks can help you in making drawings and paintings. Certain hacks like sponge hack helps you in making clouds, trees, and water waves using a small piece of the sponge by dipping it into color.

Is there any art hack for beginners?

Most of the art hacks are to make the process of drawing and painting easier for beginners. Anyone from a pro to a novice can use hacks to get better at creating art.

Is Binder Clip Really Useful?

Those who paint outside can make use of binder clips to clip sketchbooks or painting sheets with an easel so that it remains fixed while working.
Read more: