Usually, when we get bored we try to get out of it by doing some interesting stuff. Drawing & painting can be one such thing to overcome boredom.
But at the very time, the mind gets empty and you lack ideas to fill your blank pages.
This post is aimed to equip you with 17 things to draw when your mind is empty so that you can fill blank pages while having fun together.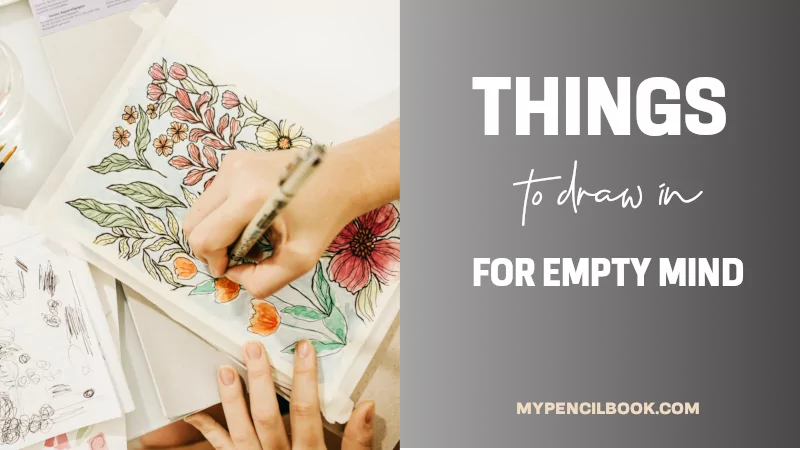 1. Draw scribble – It is a shading technique. In which you can draw anything with the help of random lines. It's a nice idea to draw when your mind is empty.
2. Make Silhouette – It's a great idea to paint in your sketchbook. To make Silhouette, To make this, Colour the paper in a single tone then, make land with grass & flowers then, draw a dancing girl & some small birds, with a black marker or 10b grade pencil.
3. Depict self-portrait with distorted face. Draw yourself, looking through a steel tumbler. Doing this can make you look funky.
4. Draw your pet – You can draw your pet with a coloured pencil. Your pet drawings would look more beautiful in colour.
5. Make Basic Shapes – Basic drawing shapes play an important role in realistic or 3d drawing, you can draw, in basic shapes like- cube, cuboid, cylinder, & more shapes.
6. Play with colour – You can paint a beautiful flower using a cold & warm colour mixture or take a single hue then, colour your favourite cartoon drawing.
7. Make the doodle – Try to draw different doodle shapes & lines. If you feel alone, you can remove your loneliness with it.
8. Draw random shapes – Fill your sketchbook with random shapes and colour it with crayons.
9. Draw the abstract art – Draw your face's pic in your abstract art style – that's a nice concept. Do you know what is abstract art? It's an art style – In which does not draw the real looks of people or things, draw only imagination.
10. Haching practice – If you are a beginner, so you can practice the hatching technique – that's very helpful for drawing.
11. Recreate master's art piece – I like master's drawing. I have learned many things from old artists' artwork. You can recreate old master's drawing by doing this your art skills will increase.
12. Logo design – Create a new logo for yourself.
13. Drawing of funny face – Depict your parents in a funny way.
14. Draw a Doraemon – Do you want to make Doraemon with your imagination? If yes, follow these steps to draw a nice-looking Doraemon. To make the front pose of Doraemon start from two ovals together for eyes.
To make the nose draw a circle in the middle of both the eyes, then right below the nose draw a straight line & make C shaped for the mouth.
Next, draw a semicircle for the head, then make C shaped from both of the eyes sides then add to the horizontal line below the mouth. Moving ahead draw the hand of Doraemon to draw hand make a circle & add inside of the horizontal line, make the same for the other hand.
Draw two semicircles, one for the pocket & the other for the stomach below the horizontal line. Now draw rectangular feet in below of his stomach. In the last add bell, in the middle of the straight line then draw a whisker on both of his cheeks. Finally, your Doraemon's drawing is ready. If you want, you can fill the colour.
15. Draw your favourite cricketer – If you like the batting poses of your favourite cricketer's you can try to make them.
16. Recreate Picasso drawing – Are you a fan of Pablo Picasso's art you can recreate his artwork in your leisure.
17. Play with perspective – Draw the landscape with the help of a one-point perspective. Also, draw a building with a two-point perspective.
Let's check this awesome webstory on "17 things to draw for your empty mind"
---
If you find these artwork ideas lovely and interesting make sure to comment and share it with your friends.
You can also check this post on " 40 Simple Pencil Drawing for Your Blank Pages "
Keep Drawing!